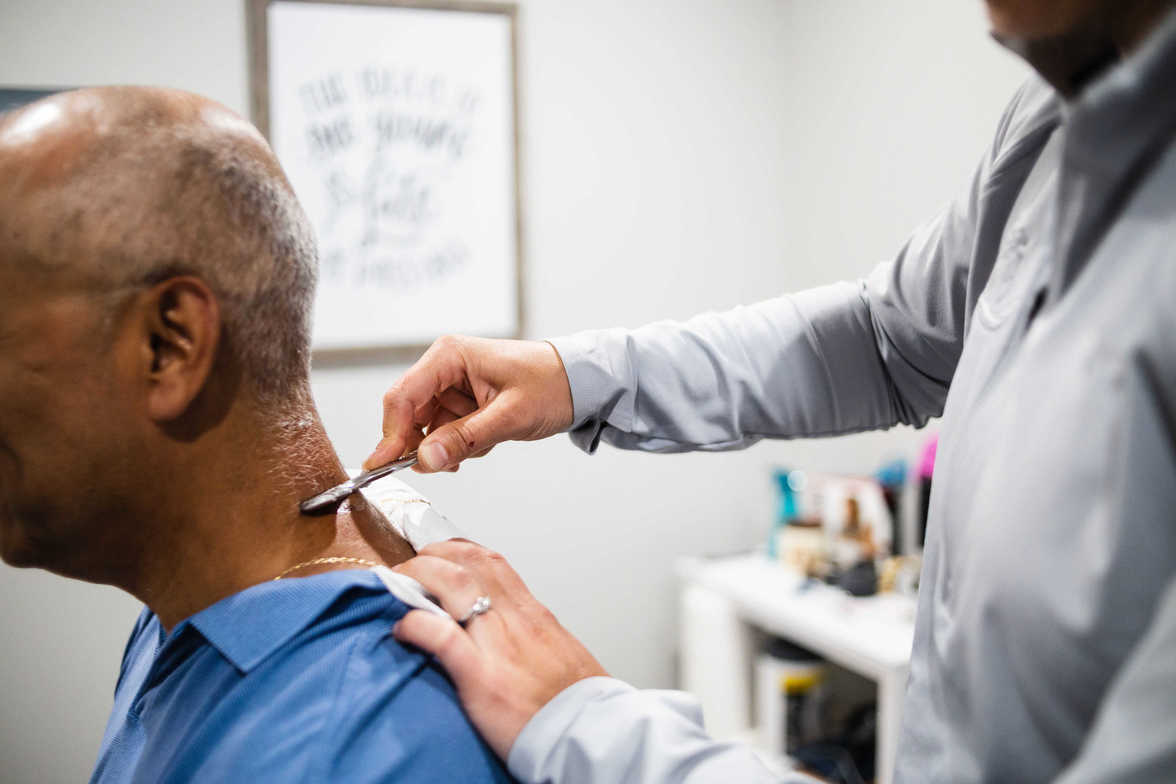 Our chiropractors are trained in many approaches to soft tissue therapies. One of our therapies uses a specific stainless steel instrument for the treatment of muscles, tendons, ligaments, fascia, and nerves. This technique is called Instrument Assisted Soft Tissue Manipulation (IASTM) or is commonly known as scraping. It therapeutically restores the proper range of motion and soft tissue health back to the body.

IASTM often feels like a focused scraping massage to a targeted region that helps break up chronic inflammation and muscle adhesion to the area that's being treated. The scraping session combines the right amount of friction with the pressure to help the body move and function better.

Like other treatments, IASTM is another tool in the treatment toolbox that can be used to help treat a patient's soft tissue fibrosis, inflammation, and restrictions to a specific part of the body or joint.

How Does IASTM Work?

IASTM works by gently and directly scraping the skin using a specialized tool made of metal.

These tools come in a variety of different shapes and sizes that can be used to target many different areas of the body. We almost always incorporate movement with the treatment. The direction and amount of pressure will vary depending on the extent of the injury to those muscles, tendons, ligaments, fascia, and nerves.

What Effects Does IASTM Have?
Decreases overall time of treatment.
Allows for faster rehab or recovery.
Reduces the need for anti-inflammatories or pain medication.
Resolves chronic conditions thought to be permanent.
It's actually specific in its application to YOU!
The scraping mechanism isn't enough to break the skin or cause damage. Instead, the tools help with applying the appropriate manual pressure by the treating doctor over that specific region of the body. The combination of the tool and the gentle pressure repeatedly applied over the skin in those short or long strokes helps increase blood flow and start stimulating the healing process again.

We often utilize a range of motion and movement while treating to better guide the tissue so that it can heal exactly the way that it needs to. Sounds very simple, right? However, IASTM cannot be used skillfully without a deep mastery and understanding of muscles, fascia, tendons, ligaments, and the nerves that are actually being treated.

IASTM enhances the flexibility of the soft tissue located underneath the treated area. It starts interrupting pain receptors, improving the health of the underlying tissue and reduces adhesion within those muscles and fascia. Here at Lake Effect Chiropractic, we utilize the technique to restore the proper range of motion and improve the function of the body. This works in a combination with many other treatment modalities provided to our patients to actually eliminate pain and musculoskeletal dysfunction.

Tailoring Your Treatment

Having many approaches to improve aches, pains, and joint dysfunction will provide the best outcomes possible for our patients. Every treatment plan is unique and specifically tailored to what each person needs. In some instances, a patient may or may not be a good candidate for IASTM because the myofascial modality does involve an application of repeated pressure over a region.

It might not be the treatment that's for you. Especially if there's a lot of swelling, broken skin, inflammation, delicate skin, active fractures, or broken bones.

Conditions That IASTM Can Help

Many muscles and joint conditions benefit from a skilled practitioner using IASTM. Adding this to your treatment plan can encourage a faster rehab recovery while also reducing some pain.

Some examples include:
This result is a more flexible area of the body that has less pain. The improvement is sometimes felt immediately, or it could take several sessions depending on the extent of the injury being treated.

If the soft tissue texture is very dense or tight, a pain reliever cream may also be used to improve the instrument gliding over the skin.
If you feel this could be something helpful for you, reach out! Gvie us a call at (989)686-6808. We can help clarify any questions and get you scheduled so you can take that next step towards feeling your best!