Exercises for back pain, neck pain, and other regions don't have to be boring. Not your cookie cutter approach. At Lake Effect Chiropractic our approach to rehab favors high quality movements and specific reps as a valuable method to restore proper function.
The Mckenzie Technique
One method often used, is McKenzie exercises, often abbreviated MDT, and it incorporates directed functional movements as part of the diagnosis and rehab protocol of many muscle and joint.

This approach to muscle and joint rehab is non-operative exercise, that can be performed both within the office and from the comfort of your own home.
Our approach to exercise focuses on proper movement to alleviate the pain, improve range of motion, and allow patients to return to fully functioning in their lives more efficiently.

So what is McKenzie?
The McKenzie method of exercises as also known as mechanical diagnosis and therapy. MDT is widely used as a classification system for the diagnosis and treatment of a variety of conditions. It was developed back in the 1950s by a physical therapist named Robin McKenzie. It took McKenzie over 30 years to really dial in his technique and for it to become popular, and when it did, it took off.

Mckenzie exercises became popular in the 1980s and are found in many chiropractic and physical therapy offices today. Mckenzie Exercises became popular for their conservative, safe, and above all effective rehabilitation approach for numerous conditions, including low back pain, neck pain, and extremity pain.
What Make the Exercises Unique?

With McKenzie exercises, patients are placed into certain poses or specific patterns of movement that are held for several seconds up to several minutes.
These poses combine strength of the soft tissue ligaments, muscles, and because of its effectiveness and versatility, the exercises can be started in the office and transitioned into a home exercise.

Once the mastery of the movement is obtained through posture correction and repeated exercise movements, these mvoements are to be continued at home to increase movement ability and to continue reducing pain!
Patients feel empowered to be able to take care of themselves at home.
At Lake Effect Chiropractic, we strive to change the function of your body and how it use utilizes muscles, joints, and ligaments and nerves.
So who can perform and benefit from McKenzie exercises?
A large majority of our patients experience less pain through their own specific movements. At Lake Effect Chiropractic, we want to keep you moving! Through McKenzie exercises along with our other approaches to dealing with aches, pains, muscle, and joint dysfunction.

Rehabbing an injury isn't simply stretching the muscles, it's identifying the key area where dysfunction may occur. Mckenzie exercises help evaluate the body's functional stability, mobility, and balance. When a problem arises in the muscles, joints, ligaments, nerves, it may even cause the symptoms show up elsewhere in the body.

This is common and normal. However, it could make it tricky to diagnose. McKenzie exercises are not only a means to address mobility, stability problems. These exercises, based off the pain and movement behavior of your body, can help identify the areas of dysfunction where the problem arises from.
Causes of pain may include:
Tight muscles
Stiff joints
Trapped nerves
Irregular muscle activation
How can the location of my pain be different from the source?

If one area of the body doesn't move properly, then it can affect the function of the entire rest of the region. One example is wrist pain or arm pain due to a problem in the neck or the shoulder.
Thinking of your body as a river and several beaver dams. Although the blockage is upstream, the effects have slowed water or felt downstream to us.

This can translate into pain, stiffness, muscle weakness, or decreased function like finding the beaver dam along the river. Mckenzie exercises help locate the areas of decreased function. As a result, McKenzie's approach to muscle rehab identifies when muscles aren't working hard enough or harder than they're meant to, and that's where we have extra strain wear and tear.

Once the area is identified, the same exercises can:
Help restore proper movement
Re-engage muscles
Re-educate them to improving strength
And more!
The conditions that these exercises can help are endless. There's an increase to quality of movement so that everyday activities are easier.
Many conditions can respond to MDT:
Sciatica
Hip pain
Knee pain
IT band syndrome
Plantar fasciitiis
Achilles tendonitis
Shoulder pain
Carpal tunnel syndrome
Golfers or Tennis elbow.

So although some of those injuries can occur from trauma, others can develop over time due to repetition with poor form, poor posture, and/or muscle weakness.
The best part about this treatment approach is that it is gentle, specific, effective, and efficient. Many patients benefit from these approaches in rehab that we utilize here at Lake Effect.
What causes this dysfunction?
Dysfunction and pain can occur at any time in a person's life.
What are some causes of dysfunction?
incorrect or improper form during learned activities such as a sport
exercise injuries such as a broken bone or a fracture.
Poor ergonomics
Improper footwear
Abnormal posture
Ligament weakness that affects joint stability. (Often after a previous similar injury)

For example a few rolled ankles in your history, may have left you with insufficient muscle strength.
So can Mckenzie exercises help you? Often times the answer is a outstanding YES! McKenzie exercises are versatile, non-invasive therapy, and it focuses on improving motion patterns.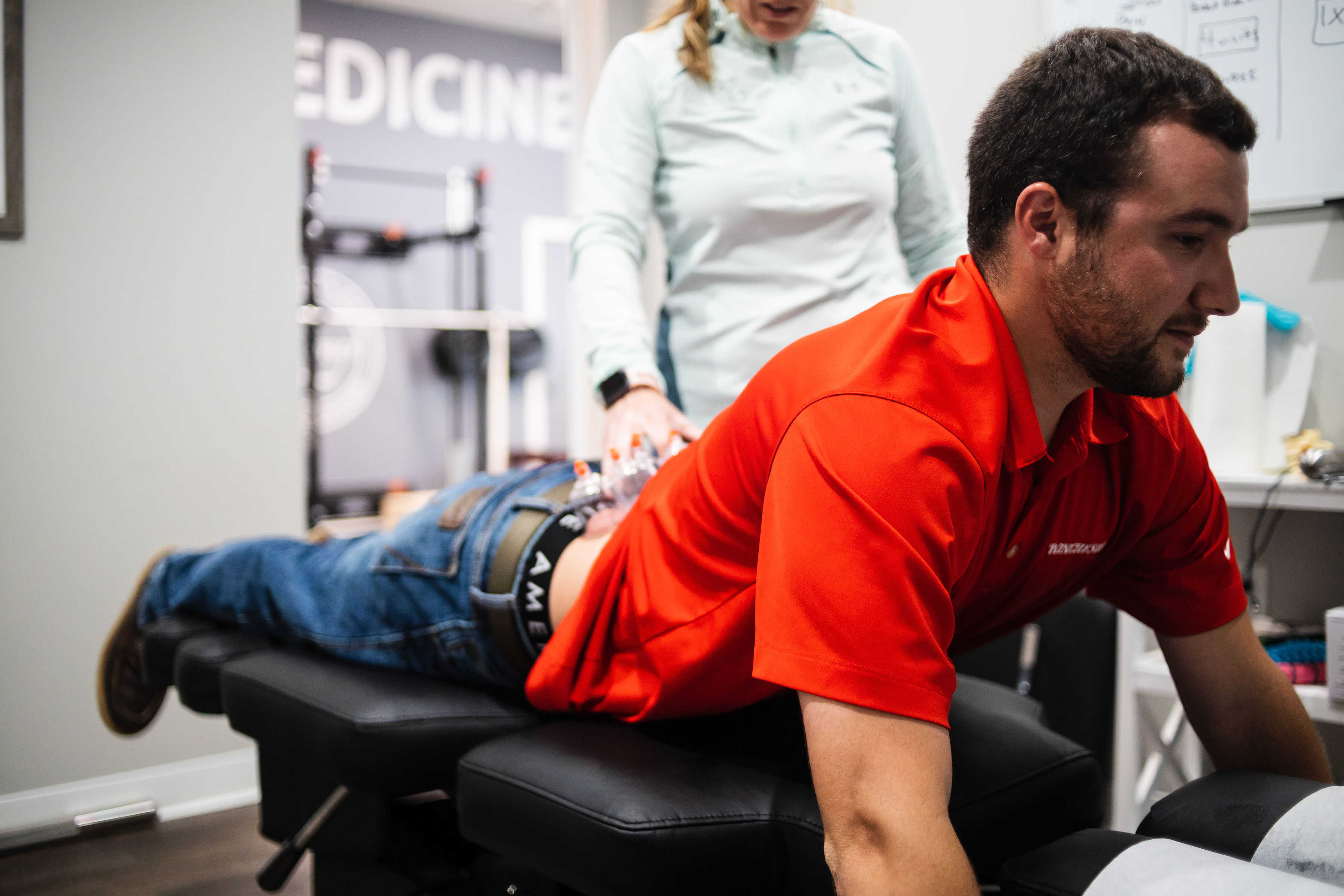 Overview:
Many individuals, ranging from young teenagers to older adults can safely perform these types of exercises/ rehab movements. The rehab exercises such as McKenzie style exercises enable us as the doctors to use a detailed movement assessment to determine the primary area of dysfunction. How your body feels and how it responds, allows us to address these compensatory patterns in the muscles, joints, nerves, ligaments, and spine.

From here, our doctors can determine what is specifically causing your pain directly and indirectly. The McKenzie exercises are an excellent means of assessment and treatment for many musculoskeletal conditions. Our team focuses on providing the best chiropractic rehabilitation care in the Bay City area to maximize patient outcomes.
The use of McKenzie exercises allows our patients to move better and be stronger than before they found us at Lake Effect Chiropractic.
To determine if and what type of McKenzie exercises are right for. Give our office a call and make an appointment with one of our skilled doctors today!
(989)686-6808