Summus Class IV Medical Laser
Laser therapy is the use of specific wavelengths of light to stimulate the body's natural ability to heal. Laser therapies are medical treatments using a specific device to focus light on a targeted region of the body. The goal of laser therapy is to promote healing.
This healing modality doesn't use the same type of lasers a person might expect from a fun game of laser tag or a concert light show. Unlike other light sources, light from a medically attuned laser device uses specific wavelengths, allowing it to be focused into powerful beams to help an area of the body heal from injury and recover more quickly after exertion and performance.
The concept of the laser is not new, nor is it a section of science fiction. Laser theory was first described in 1916 by Albert Einstein, and his ideas started the development of the therapeutic laser used today for pain. The first medical laser was developed in 1960 after discovering accelerated wound healing occurred with low intensity laser irradiation of wounds.
Modern day medical lasers use highly therapeutic red and near-infrared wavelengths to achieve healing. Many scientific studies demonstrate these specific wavelengths wield significant and unique properties for cell stimulation and pain suppression in the human body. Using this knowledge, medical lasers use red and near-infrared light wavelengths to improve healing time, decrease pain, improve blood circulation, and decrease swelling.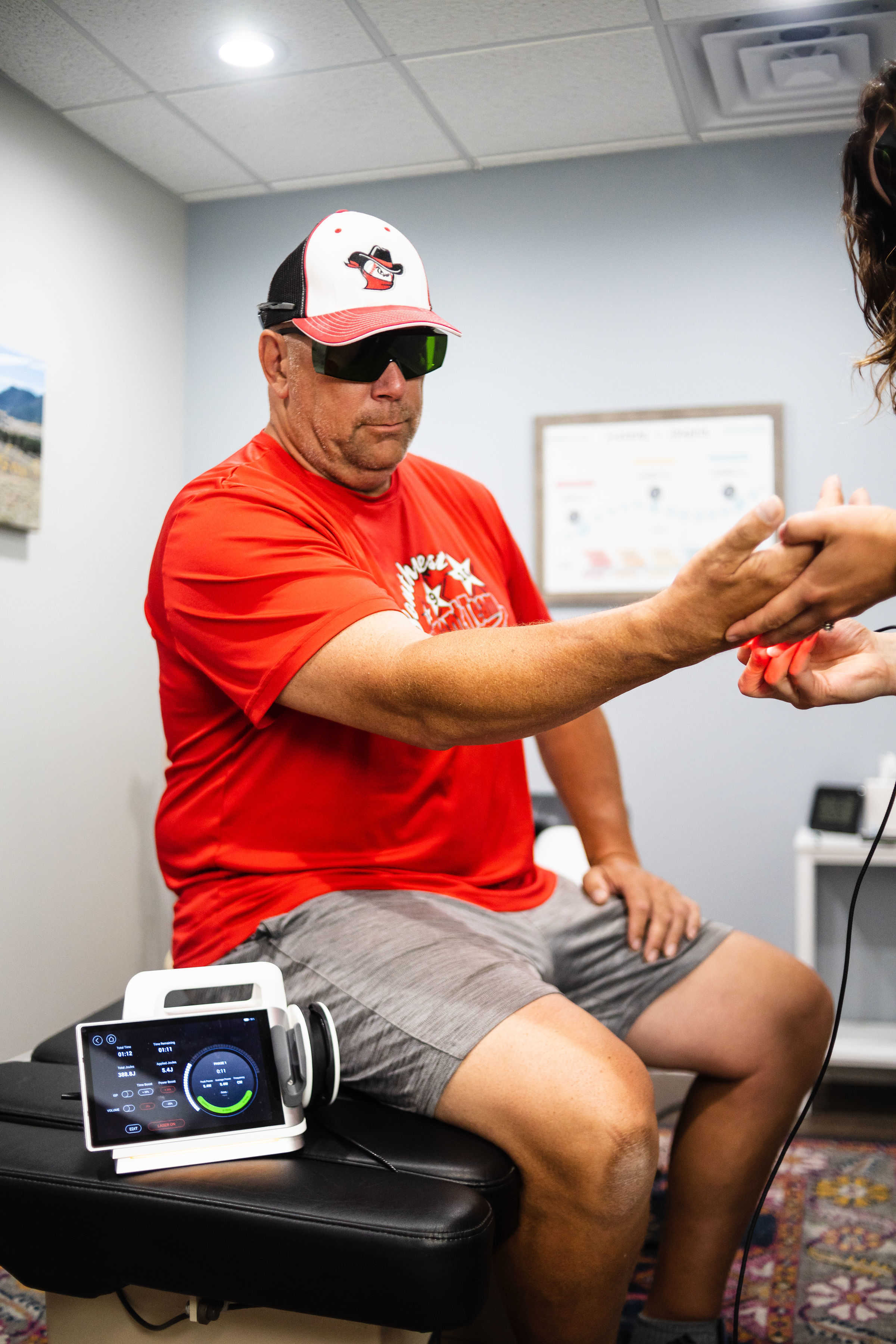 Specifically, Class IV lasers are designed to treat pain and accelerate the healing process for many injuries to the muscles and joints of the body. This is not the same type of laser used in other medical procedures to cut tissues or provide surgery.
Class IV laser is a valuable and painless form of treatment therapy in case you have an athletic or sporting event you need to be ready for as soon as possible, or if your pain has become chronic or recurring over time. Many patients at Lake Effect Chiropractic successfully use medical laser in their treatment of arthritis and joint pain, sport injuries, ligament sprains, muscle tears, and more.
Official Summus Website
How does Class IV laser work?
Summus is the brand utilized in the office. Summus has a variety of medical lasers for light therapy ranging from dental to veterinarian uses. In our Bay Area office, our laser uses red and near infrared light to induce photochemical reactions in the body on cellular and even molecular levels. The laser used in our clinic focuses on musculoskeletal repair and recovery by penetrating into the very cells of the injured tissues themselves.
During laser therapy, infrared laser light interacts with muscle, joint, ligament, and skin tissues at the cellular matrix level. The cells become more active and demand more energy, thereby increasing metabolic activity within the injured cell.
The demand for nutrient-rich blood flow and other chemical components for healing takes place, and the body responds by channeling more resources to the injured or affected area. Increased production of cellular energy occurs as transport of nutrients across the cell membrane is improved. This results in increased cellular function and faster tissue repair.
The result is a speedier healing time – meaning less pain, a faster return to sports and play, and fewer days taken off work due to pain or injury.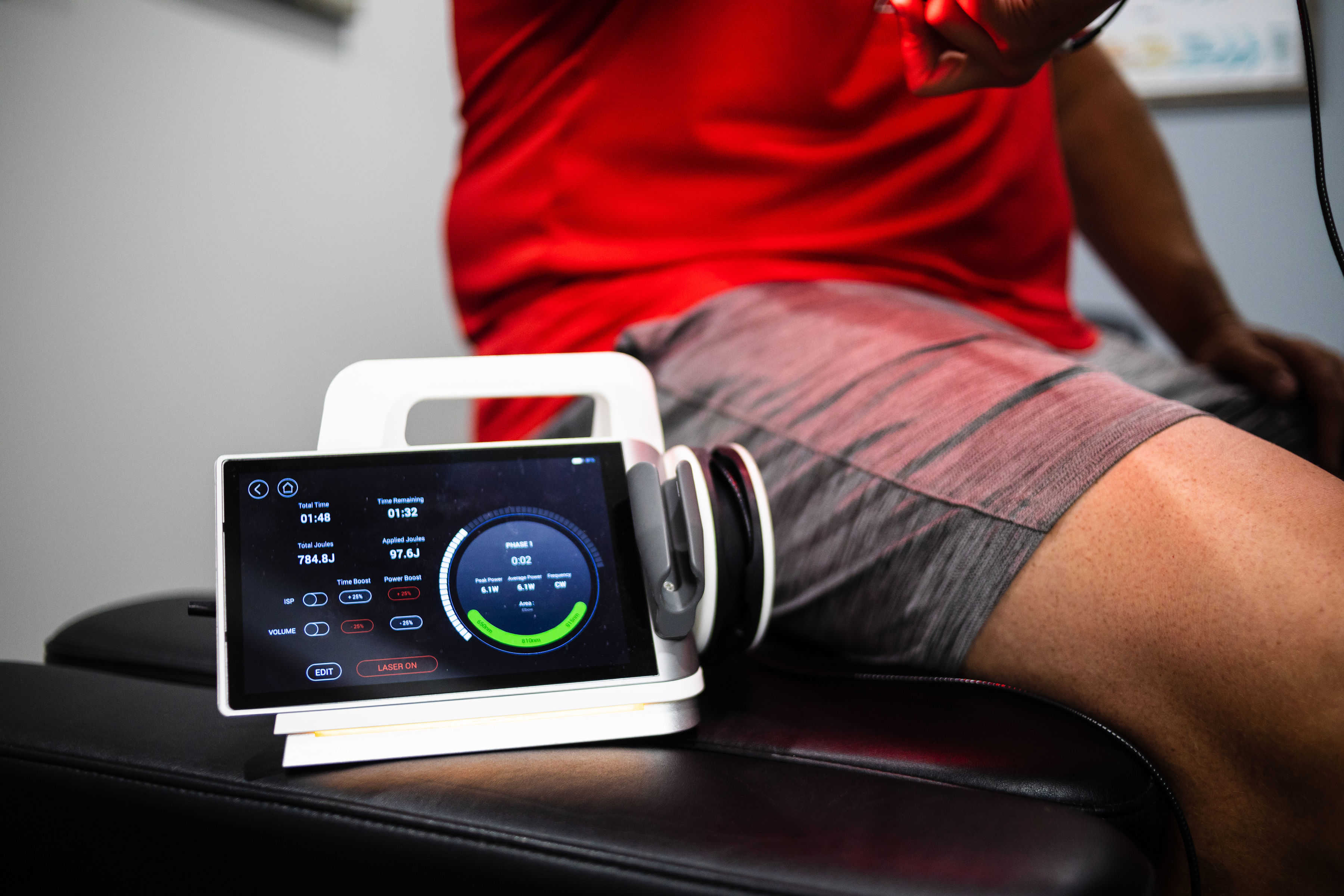 Varying wavelengths are used throughout different protocols to treat a variety of injuries ranging from arthritis to trigger finger. Wavelengths are important to determine a therapeutic laser's depth of penetration and power – this determines the dosage delivered to depth in tissues. Power (Watts) is the rate of energy delivery and energy is measured in Joules (1 Watt = 1 Joule per second).
As not every muscle or joint condition requires the same amount of energy delivery, each condition is treated individually. The specific protocols used in our chiropractic office help modulate (control) inflammation, reduce pain, accelerate tissue healing, and increase circulation to an injured area.
Laser light treatment draws water, oxygen, and nutrients to the damaged area. This increase in cellular respiration, DNA and RNA synthesis, and energy production results in a healing process that can occur more quickly and more efficiently. This ideal healing environment reduces inflammation, swelling, stiffness, muscle spasms, and pain.
Function is restored, and pain is relieved as the injured area returns to normal.
Best of all, the experience is practically painless.
Who can benefit from Class IV laser?
Many people find Class IV laser a beneficial addition to their treatment at Lake Effect Chiropractic. Not only is the laser lightweight and portable, it's also an effective and safe approach to treatment. The device has multiple settings with a variety of wavelengths, allowing both power and precision. And, the sturdy design yields results that are tailored to each person's condition.
The versatility of the Summus Class IV laser allows it to treat a tremendous variety of conditions. Here are just a few:
Acute & chronic pain
Motor vehicle collisions
Neuropathy
TMJ
Trigeminal Neuralgia
Trigger Finger
Different settings of wavelengths, determined in nanometers, achieve different effects. The wavelength setting determines whether the targeted laser reaches the superficial receptors of the skin and surface tissues or if it penetrates more deeply to improve circulation and improve oxygen and nutrient-rich blood flow to a region of the body.
Not every condition should have a steady bombardment of laser light, either; light can be pulsed to improve uptake of energy as necessary, too.
The versatility of the laser wavelengths allows it to treat a variety of conditions. Studies provided by Summus demonstrate different pulse frequencies elicit different physiological responses, and that different tissue types (muscle, connective tissue, bone, etc.) respond better to different pulse frequencies.
Therefore, our Bay Area office uses different protocols for different conditions; use of continuous wave and various pulse frequencies in combination with different wavelengths helps optimize clinical outcomes.
Think of laser therapy as a boost of energy to the body in the form of billions of photons of light. The body absorbs this energy boost on a cellular level. Injured cells transform this wavelength into a different, chemical type of energy boost, which the body then utilizes to accelerate tissue repair.
Is a laser modality appropriate for me?
Many folks seeking care in our chiropractic office receive laser therapy with great benefits. Such benefits include:
Improvements in pain
Reduced inflammation
Regeneration of damaged or injured tissues
Increased movement and range of motion
Improvements in performance
Increased circulation to an injured area
Laser treatment is a great choice for many patients to regenerate torn tissues and accelerate the healing process. Laser treatment offers a great pain relief as well as reduction of swelling and increased range of circulation and motion. Many patients usually see results quickly after being treated with therapeutic laser treatment, sometimes even on the first day!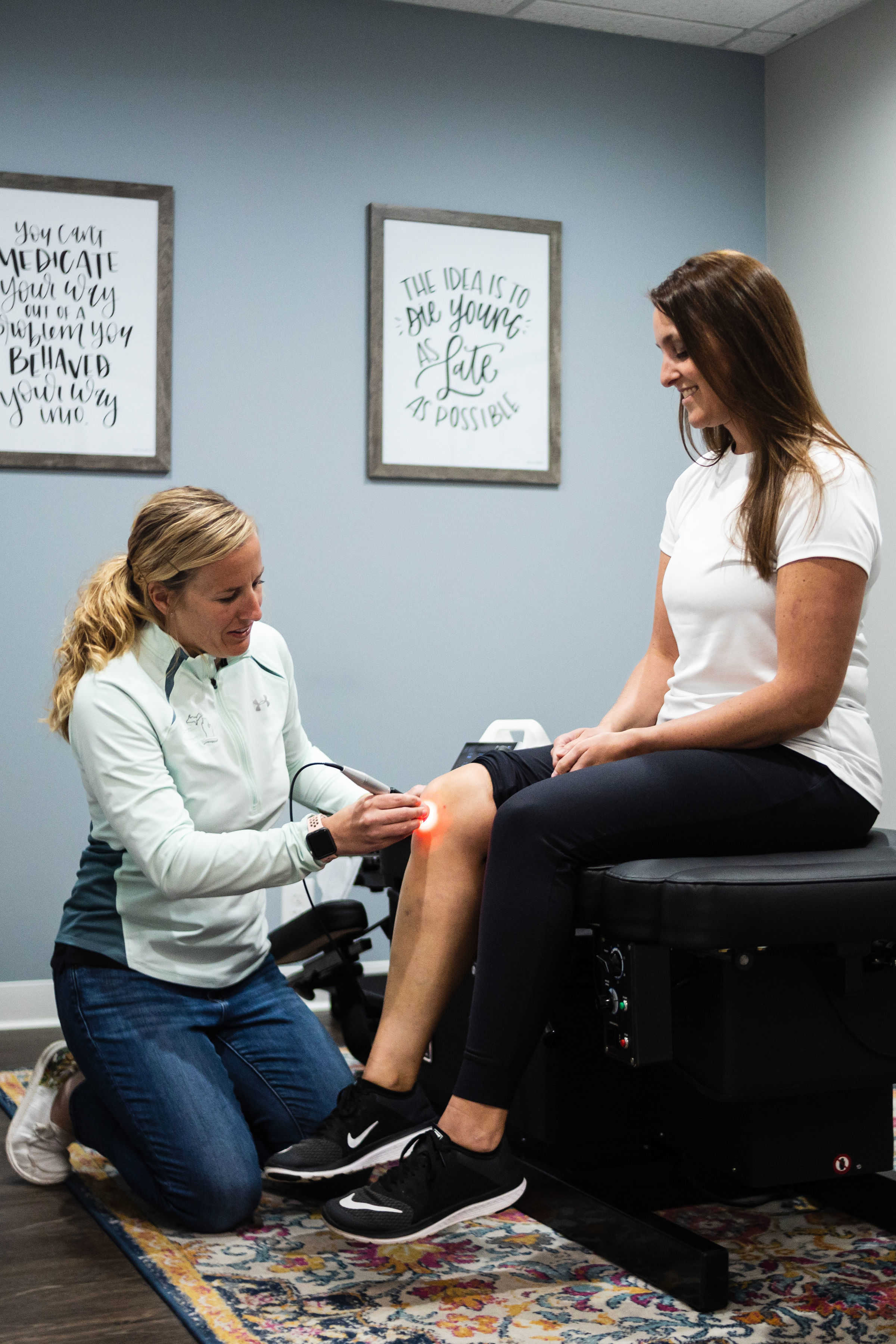 Using infrared and near-infrared light wavelengths to boost energy production within the cells is a valuable form of therapeutic treatment. This modality is not suitable for every condition; pregnant women, individuals with pacemakers and implants, and individuals taking photosensitive medications should discuss alternatives with the treating doctor.
If you're in the Bay Area and interested in learning more about laser therapy, give us a call! You do not need to schedule a separate appointment for treatment with our Class IV laser – if this intervention is appropriate for your care, it can be combined with your regularly scheduled appointment. Patients often notice results within the first session, but more complex or complicated conditions may take several treatments.
Other conditions may require additional sessions or supportive therapy if it is a long-term condition, such as arthritis.
You should talk about expected course of treatment with our highly trained Doctors of Chiropractic who will oversee your laser therapy. We would love for you to speak to our team or visit our office to determine if laser therapy is right for you!
What Our Patients Are Saying
"This place is amazing. I recently tore my calf muscle and didn't know the severity or where to go for it. My girlfriend goes to Lake Effect and asked Dr Ashley for advice about my injury. She offered to take a look and refer me to someone if necessary. I booked an appointment and was able to get in earlier than scheduled. Dr Ashley examined my leg and gave me a lazer treatment. I immediately felt better. She came in early to accommodate follow up appointments and even reached out to other sports medicine professionals to make sure this was the right course of treatment. I was able to run a 5k just three weeks after my injury. I am now going weekly for lazer treatments and rehab recommendations. I couldn't be happier with my progress. Everyone in the office is so nice and welcoming and they even have the best behaved office dog."
-Corey from the Tobico Marsh Trails in Bangor Township, MI